Calabash - North Carolinas Barrier Islands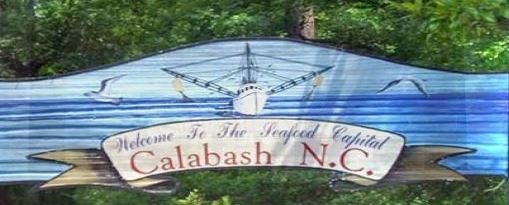 The Brunswick Islands create family traditions and deliver long-lasting memories. Five beautiful unique barrier islands on the south eastern coast of North Carolina, surrounded by ocean, wetlands, salt marshes, creeks and estuaries bustling with marine and birdlife. Start your family adventure here with the perfect Calabash condo rental.
Calabash
There is nothing better than fresh from the ocean seafood and there is no place better to enjoy it than relaxing in the small picturesque fishing village of Calabash. Nationally known as the "Seafood Capital of the World", Calabash's two main streets are lined with a variety of authentic nationally acclaimed seafood restaurants, some dating back to the 1940's.
Calabash is nestled peacefully between the Intracoastal Waterway and the Calabash River, the perfect destination for exploring the surrounding wetlands, salt marshes, estuaries and creeks. Cruise the Intracoastal Waterways by boat, kayak or paddleboard or relax and cast your line from the water's edge. Step out of your backdoor to hike, bike or horse-ride through the outdoors. Explore the town's quaint streets and unique stores and galleries, tee off at one of the nearby golf courses and end your day with a beautiful sunset dinner of fresh seafood at a waterside restaurant. Calabash is perfectly located to explore North Carolina's Barrier Islands and the nearby tourist town of Myrtle Beach.
Relax and enjoy the beauty of this quaint fishing village.
Explore the surrounding areas
The surrounding areas offer plenty of attractions and activities. The barrier islands lie between Wilmington and Myrtle Beach. Just south of Wilmington is the small boating town of Southport. The towns are close enough to be able to explore all the coastal attractions.
Wilmington is a historic sea port with quaint waterfront shops and coffee houses, home to the USS North Carolina Battleship. Only a half hour drive from the islands is the tourist destination of Myrtle Beach with endless attractions. Explore Barefoot Landing, a shopping complex alongside Louis Lake with many stores, restaurants and attractions, including a reptile zoo and the House of Blues, Catch a broadway-style show, spend hours on the many amusement and water park rides and experience Ripley's aquarium. The small boating town of Southport is a great place to antique and home to museums and historic sites. Hop on the ferry to the Cape Fear Peninsula, Bald Head Island and Fort Fisher to view North Carolina's oldest lighthouse, the North Carolina Aquarium and the Smith Island Museum of History.
So much more to explore, so close to home.